D.O.T. Signage: Everything you Need to Know
The United States Department of Transportation (US DOT) sets regulations for traffic signs as well as fleet and vehicle graphics. When printing signage, it is best to be in the know on the US DOT regulations involved. We are your go-to US DOT sign printer in Pittsburgh.
Truck Numbering
When you think US DOT you likely picture the identification numbers that are displayed on commercial vehicles and truck fleets.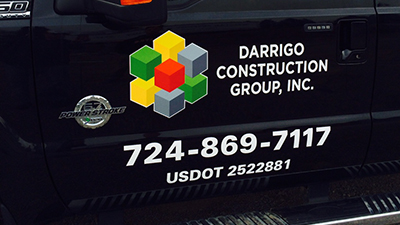 USDOT requires a US DOT Number be applied to each side of all Commercial Vehicles (Any trucks exceeding 10,001 pounds) that is readable from 50 feet (2" tall in a contrasting color) and in a readable copy or font. The Decal or Sticker must be applied to the vehicle (ie - not trailer or fuel tank covers or other removable parts) and permanently attached (not magnetic or paper duct taped to the door). – Federal Manual of Uniform Traffic Control Devices
Your US DOT numbering solutions can take several shapes. Placing vehicle lettering or a vehicle wrap will create a permanent branding solution. Magnetic options are also available to create more flexibility among your fleet.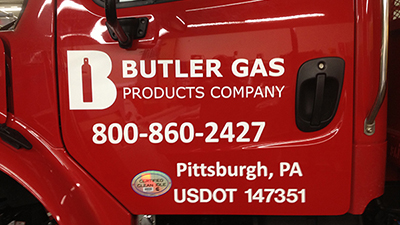 Signs
The purpose of traffic control devices, as well as the principles for their use, is to promote highway safety and efficiency by providing for the orderly movement of all road users on streets, highways, bikeways, and private roads open to public travel throughout the Nation. – Federal Manual of Uniform Traffic Control Devices
Before getting into signage specifics we should first explore the different types of signage.
Regulatory Sign: a sign that gives notice to road users of traffic laws or regulations (Stop, Yield, Speed Limit, Parking)
Warning Sign: a sign that gives notice to road users of a situation that might not be readily apparent. (Intersection, Pavement Ends, Dead End, No Outlet)
Guide Sign: a sign that shows route designations, destinations, directions, distances, services, points of interest, or other geographical, recreational, or cultural information
Once you have decided what purpose your sign will serve you can begin to research the layout of the sign. There are several things you need to keep in mind when designing your sign.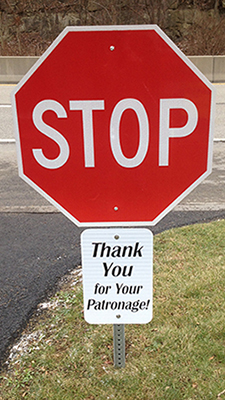 The main goal of each sign is legibility. Consider your audience and plan the layout accordingly. The faster someone can comprehend your sign, the sooner they can react. Be sure your sign is both:
High visibility by day and night; and
High legibility (adequately sized letters, symbols, or arrows, and a short legend for quick comprehension by a road user approaching a sign)
To keep things uniform and safe throughout the country, each specific type of sign has a shape, size and color. Following these standards will avoid any confusion and allow for your signs to be more recognizable.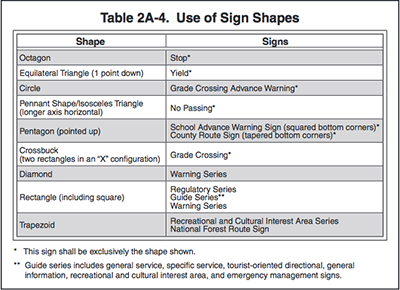 Standard Sign Colors:
The general meaning of the 13 colors shall be as follows:
Black—regulation
Blue—road user services guidance, tourist information, and evacuation route
Brown—recreational and cultural interest area guidance
Coral—unassigned
Fluorescent Pink—incident management
Fluorescent Yellow-Green—pedestrian warning, bicycle warning, playground warning, school bus and school warning
Green—indicated movements permitted, direction guidance
Light Blue—unassigned
Orange—temporary traffic control
Purple—lanes restricted to use only by vehicles with registered electronic toll collection (ETC) accounts
Red—stop or prohibition
White—regulation
Yellow—warning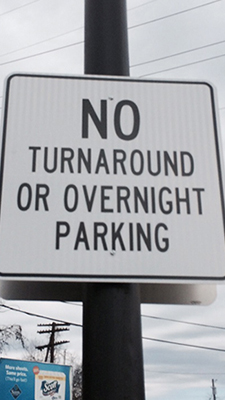 One of the last major regulations you need to know has to do with installing your sign. It must be held in a proper and permanent position. The sign needs to be stable enough to resist swaying with the wind or displacement by vandalism. For obvious reasons, you want your investment to stand up to the elements and hooligans.
At Mr. Sign we are equipped to meet all of your USDOT signage needs. From the side of your truck to the signs in your parking lot we are here to help through all of the regulations. Call today for your USDOT signage 412-264-4555.
For more information on US DOT regulations please review the Federal Manual on Uniform Traffic Control Devices.